To start some (non quality as I didn't try taking good pictures but randomly grabbed the camera and shot) pictures of bright fur and short clothing.....
The party started around 14ish and we crossed the Brandenburger gate enjoying the sun and our beers as no glass bottles were allowed inside. Us being Jimbo and Graham, brits of ours, the party guys that met with us in berlin. Hostel was a giant mushroom of 7 floors crawling, buzzing with people in Kreuzberg area. Fine for what we had planned, 4 hours of sleep each night.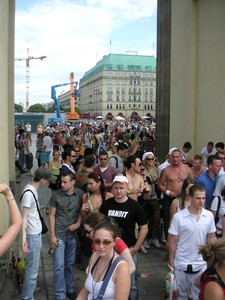 The crowd to start with was passive, we followed the trucks (40 of them), dancing along the tunes we liked and moving onto a next stage if the music changed.
Raving is the wrong term to use as the 40 trucks strolling along the Tiergarten plaza were more off a gentle mix of hype music and softer beats (to you my friends thriving on jazz, soft voices and pop, soft isn't that soft but to you norwegian hardcore lovers it WAS soft) with I swear it's the truth a remix of Pirates of the caribbean. It took us a few seconds to realise what we heard but eh we got carried away and I have no shame, I Hovered on it with grace and in skimpily clad clothing of a sort;) See image below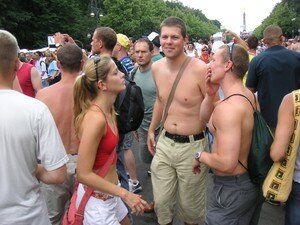 Don't get me wrong, there was many good tunes, very good tunes especially trucks 33 and 11 that we kept following but it was very commercialised.
What I liked about the new look was:
-Access to toilets, as before, well...you had the options of using bushes to hide (barely) and later on the angst and poise of Berliners for soiling their park.
-The trucks being all the same in look, colours and shape. It created an harmony and a focus on colourful people.
-The atmosphear, lively
-The after clean up. Very impressive balance of men and machines, sweeping away crushed glass, rubbish, 5 th elemental ayriness as I ran through the empty avenue, observing their dancing skills.
3 hours after our arrival, we took a break from the maddening crowd and settled down in the park for a rest. I happened to encounter a group of 3 freelance documentary filmmakers from london and ended up joining them on their quest of shooting. What were the odds really?? So from this time onward I left my cherished party men and joined the crew for a wicked time.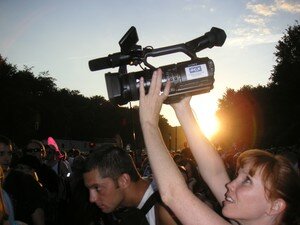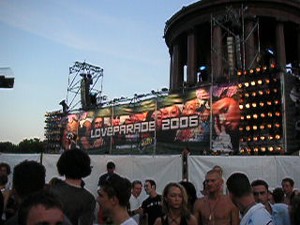 and this is the midst of it all as the trucks joined the center stage to finish.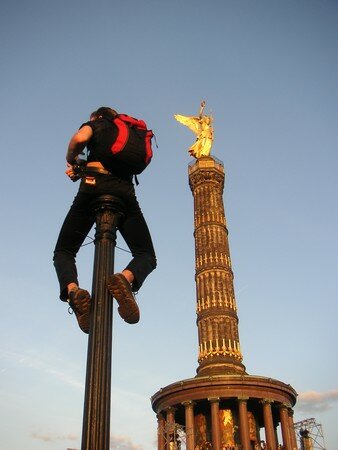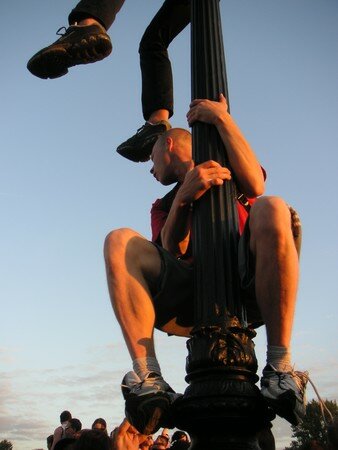 I want to clarify one main point. Has the parade lost it's original tempo, it's gayness and proudness, it's value???
Music wise only time will tell. I had the feeling that amongst those 500.000 here, it was a great mix of old and new, an array of nationalities with mainly german people though.
Videos coming soon luckily. me and vloging is a first so be patient. Thnx