Moved out of my childhood house last week, walls, rooms, souvenirs rippling across my face as I walked the corridors and gently murmured to myself. Furniture has not been packed yet and I imprinted a mental image of it all, desperately trying to hold on for as long as I could, catch every colours, every details forever. I was born in that house. I got stung by my first bee in that house.
I know every bolts, every cracks of this house. I know on which steps to stand to avoid making noises while climbing up the stairs at night. I know too much. I know where the pear tree used to stand majestuous in the middle of the lawn, whereas nowadays a smelly bush has replaced it. I still grieve one of the cherry tree that we had cut down a few summers back, it used to reach my room and I could grab the branches and pluck riped cherries in between my breaks from school. I can remember me and mein schatz, puss tri-coloured who adopted us, came one day and stayed, running round and round the house playing wolf or lying on the shedsunroof observing people walk past in the street from our high perched position. the smell of roses, lilac and my afternoons lying in the grass reading, daydreaming under the vine gently rocked by the bees buzzing in the grapes. I remember bbq's, parties, b'days in the cellar at 14-16 with the boys, I remember sundays and sitting by the fireplace or going for walks with the dogs in the woods nearby.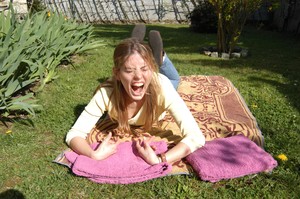 I come from Paris, the suburbs, but I realise that this place was out of the ordinary. A safehouse,a green pasture amongst the tarmac, noise and filth. 3 km from the city but still in nature. I am grateful for having grown up there, grateful for understanding cities yet aware I do not belong there or with the people who live in my hometown. I never fitted and having met oncemore 50 to 60 odds aquaintances, neighbours, friends during our goobye/atticsale day I have never felt better about who I am. God I would not give anything to be 17 again, EVER....There was a relief for having moved on but a regret for leaving this house.
The weirdest thing is that everytime I will come ''home'', well where I grew up, Paris, I will expect unconsciously to be able to sleep in that house, a bed, instead of visiting friends. I guess you learn to let it go and if you can't write a book.